a sustainable food ingredient
For many europeans, macroalgae are a new food ingredient. But at the same time, this is a teasy, healthy and sustainably produced food that all should be familiar with. Algae as a main course or as exciting spices and flavoring offers many possibilities, where the distinctive umami taste is emphasized by many as very special. 
Try your hand at algae on the dinner plate, there's a whole sea to use!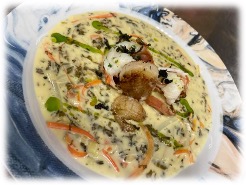 Clean the fish and remove all bones. Cut the fish into pieces (approx. 2×2 cm). Set aside.

Clean the vegetables and cut them into pieces half the size of the fish. Cut the seaweed into strips.
Melt the butter in a wide pan and fry the vegetables and seaweed quickly. Sprinkle over wheat flour and stir it in. Add white wine and boil. Pour in fish stock/water. Bring to boil, lower the heat and let the soup simmer for four to five minutes.
Add coconut milk and boil again. Add fish pieces and mussels and let the soup steep for a further four minutes, until the mussels have opened. Add to taste with salt and pepper and possibly adjust the consistency with a little more water or cream.
Chop the fennel grass and sprinkle it on top of the soup together with the chives.
Serve the soup steaming hot with good bread.
 
400 g fresh fish (cod, sole, plaice and pollock)
200 g salmon
2 pcs. carrot
2 pcs. parsley root
100 g celery root
0.5 pcs. leek (use the white part)
0.5 pcs. fennel
2 dl Butare
2 tbsp butter
1 tbsp wheat flour
1.5 dl white wine (can be replaced with fish stock)
0.5 dl fish stock
1 can of coconut milk
1 dl cream
1 tsp salt
0.5 tsp ground pepper
2 tbsp chopped fresh chives
Learn how to use Sugar Kelp in your cooking with Fredrik Hald, Head of Product Development at
Lerøy Seafood Group.
Trout Tartare with Sugar Kelp
Salmon Tataki with Sugar Kelp and Apple
Lemon and Butter fried Scallops with Sugar kelp
Steamed Mussles with Sugar kelp
booklets with recipies and tips om how use macroalgae in your cooking! 
Introduction to Seaweed in Food