The Erasmus+ funded project Macroalgae Initium have through a 3-year period focused on 3 main aspects;
Macroalgae as food
Environmental impacts of macroalgae
Macroalgae farming.
The deliverances from the project have resulted in this website. The partners have both shared and increased their knowledge about macroalgae, and we hope that also other schools and organizations will find information and knowledge developed in the project useful and interesting.
A week of seaweed – A LTT-week in Grenaa (October 2019), where students and teachers participated in seaweed harvest, made seaweed food and learned more about seaweed cultivation. Video made by Steinkjer vgs. 
Aquaculture is one of the fastest growing industries in the world and will be a crucial part of the worlds food production in the future. To meet this demand there is a need for improved knowledge to utilize the available marine resources in a sustainable way. Low-trophic aquaculture is essential if we are to achieve the goals set by the European Union, and/or each country, for sea based food production. Much of this production must come from species that can utilize energy sources such as sunlight and plankton for growth and that do not need additional feed.
Farming of macroalgae is a growing industry all around the world (including the nordic countries), and the ambitions is quite high. A report from SINTEF Ocean (October 2017) estimate the potential for macroalgae farming to be 90 000 tons for Trøndelag county (Norway) alone. The further development of the macroalgae industry requires different approaches, as there is a need for different competences at different levels. The total worldwide production of macroalgae is more than 30 million tons a year. Asia is the main producer and consumer, but macroalgae as food is quite unknown to people in Western Europe. It is therefore a demand for a common understanding across Europe of how macroalgae can be farmed, used in different ways and its environmental impact. To transfer knowledge among youngsters and students – as future employees, stakeholders and decision makers – is an excellent start for such an understanding.
The main aim for the Macroalgae initium project was to provide basic knowledge of macroalgae to students and teachers. In addition, we aimed to tell and teach the public about the benefits of macroalgae as healthy food and sustainable food production.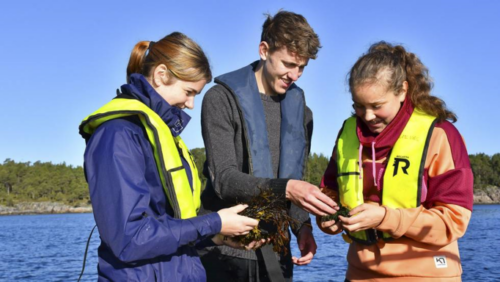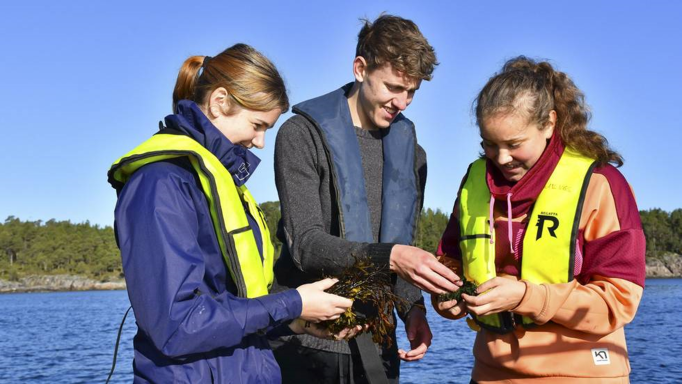 Macroalgae initium LTT-week in Føya May 2022. Video made by Steinkjer vgs.